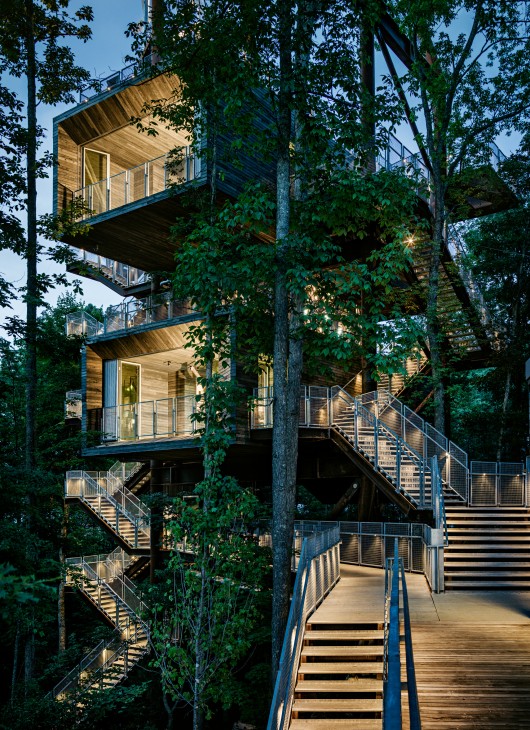 In honor of Earth Day, we have complied a preview of the top ten most sustainable exemplars of U.S. architecture selected by the American Institute of Architects (AIA) and its Committee on the Environment (COTE). Each project featured will be honored with a COTE Top Ten Award for "sustainable design excellence" at the 2014 National Convention in Chicago.
The Arizona State University (ASU) Health Services Building is an adaptive reuse project that transformed the existing sterile and inefficient clinic into a clearly organized, efficient, and welcoming facility. The design imbues the new facility with a sense of health and wellness that leverages Tempe's natural environment and contributes to a more cohesive pedestrian oriented campus. The building's energy performance is 49% below ASHRAE 90.1-2007, exceeding the current target of the 2030 Challenge. The facility achieved LEED Platinum certification and is one of the best energy performers on campus as evidenced by ASU's Campus Metabolism interactive web-tool tracking real-time resource use.
As a centerpiece of Portland's 10- Year Plan to End Homelessness, this LEED Platinum project provides a continuum of services to help transition homeless individuals toward stable, permanent living arrangements. The architecture helps achieve this goal with a walk-in day center with public courtyard and access to support services; a 90-bed temporary shelter; and a separate and secure entrance to 130 efficient, furnished studio apartments for homeless individuals seeking permanent housing. The building's design aims to de-institutionalize services and housing for the most vulnerable in our population. Sustainable features include large-scale graywater recycling, zero stormwater runoff, solar hot water, and a high-performance envelope, resulting in energy savings estimated at $60,000 annually.
3. Bushwick Inlet Park: Brooklyn, New York / Kiss + Cathcart, Architects
This project is the first phase of the transformation of the Greenpoint–Williamsburg waterfront from a decaying industrial strip to a multifaceted public park. The design team integrated a program of playfields, public meeting rooms, classrooms, and park maintenance facilities, into a city-block sized site. The park building becomes a green hill on the west side, making 100% of the site usable to the public, and offering views to Manhattan. Below the green roof is a complex of building systems – ground source heat pump wells, rainwater harvest and storage, and drip irrigation. A solar trellis produces half the total energy used in the building.